Glossolalists
Sarah Peters | The Institute of Fine Arts at NYU
October 2 - Spring 2020
The Institute of Fine Arts at NYU is pleased to present its fall show, Glossolalists, featuring work by the New York-based artist Sarah Peters. The exhibition proudly continues a commitment to present the work of mid-career women artists at the Institute's James B. Duke House. Peters' figurative art emerges from her interest in the formal sculptural practices of distinct historical periods, from ancient to modern, resulting in a unique visual language. Set within the building's beaux-arts interior, her sculptures resonate with the Great Hall's marble floors, gilded wrought iron details, and Neoclassical statues.
The Body Stops Here
Sarah Peters | Usdan Gallery
February 26-March 31, 2019
Usdan Gallery is proud to present The Body Stops Here, an exhibition prompted by an ongoing conversation between Keiko Narahashi and Sarah Peters about sculptural representations of bodies and parts of bodies—in particular, heads and faces. As an experiment, the artists five years ago photographed arrangements of Peters's black-patina bronze figurines and Narahashi's ceramics resembling face jugs and silhouettes. Following this impulse, The Body Stops Here mixes recent works by the artists on two large-scale tables and, on a long shelf, installs an expanded version of their 2014 photo shoot.
The result is a dialogue of formal relationships—color, texture, and form—and of historic, folk, and pop-culture sources. Narahashi and Peters share an affinity for traditional objects of practical and spiritual use, such as vases, masks and totems: things that resemble bodies and are meant for bodies to interact with. Other mutual references include the humor, power and sexuality in narrative characters from Medusa to Princess Leia. Taking its title from a poem by Eamon Grennan, The Body Stops Here considers metaphors of embodiment, as well as how a sculptural representation of a body can carry traces both delicate and forceful of the (artist's) body that made it.
Co-curated by Josh Blackwell, faculty in visual arts, and Anne Thompson, director of Usdan Gallery, the exhibition features some three-dozen sculptures, in bronze, plaster, clay and metal. An accompanying catalog includes source-material images from the artists' respective archives and a conversation among the artists and curators.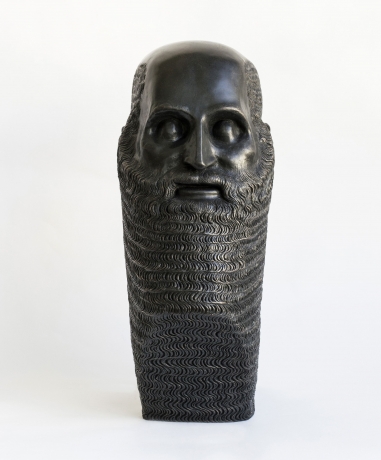 Objects Like Us
The Aldrich Contemporary Art Museum
May 20, 2018 - January 13, 2019
Objects Like Us, a group exhibition featuring more than seventy tabletop art objects by fifty-six artists, will open at The Aldrich Contemporary Art Museum in May. This exhibition explores the relational behavior of intimately scaled objects that personify or embody a human condition or attribute. The objects will span nearly sixty years and feature works conceived specifically for the exhibition, including a site-specific floor installation by artist/co-curator David Adamo. The overall experience will underscore the efficacy of the works' relativity and illuminate the interconnectedness of audience and objects. Objects Like Us, is organized by Amy Smith-Stewart, curator at The Aldrich, and Adamo; it will be on view at The Aldrich from May 20, 2018, to January 13, 2019.
Sarah Peters is included in this group exhibition.